My Treatment is a free mobile application, through which our daily struggle for health becomes much simpler. The application automatically monitors and displays statistical treatment. A very important element of its activities is the "Sharing". It allows you to keep a check, or a loved one equipped with a smartphone did not disregard the recommended dose.
Application gained a fan base among Foundation for Polish Patients Associations. New technologies do not be afraid, but to cooperate with them in the fight for health - is the motto of the campaign My Treatment, that promote: Polish Diabetes Association, Association of Friends of Children and Adolescents with Diabetes, Recovering from the Asthma Society, Problems Women's Association of gynecological oncology-Magnolia, Foundation for Young diabetics, Foundation Onkocafe, Integration Foundation, Foundation Help Children with Cancer, Foundation Dr. Clown. Patronage of the project exercises Polish Pharmaceutical Society and Polish Society for Hygiene.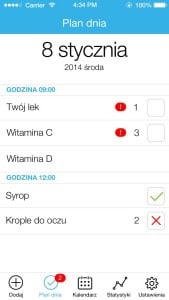 My Treatment won in this year's poll Applications without barriers, organized by the Foundation for Integration of available applications, General applications. This is a very valuable prize - the application has been awarded by the same need.
Not only Polish patients appreciate the importance of regular reminder that you are taking. My Treatment supports patients from around the world. The application has more than 13 000 users.
The benefits of the application notes pediatrician – prof. Hanna Szajewska – The advantage of the application is to increase the chance of compliance. As a rule, is so, the shorter therapy, the better adherence. The longer, the worse. It appears, the application can help here - highlights. The expert also adds, that My Treatment can be especially useful for antibiotic, requiring medication at certain intervals, by strictly designated time and using multiple drugs, when the dose and timing of administration may be difficult to remember.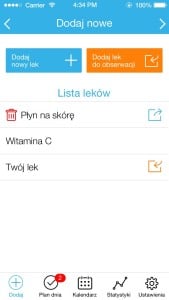 A similar view is Andrew Bauman, Chairman of the Board of the Polish Association of Diabetes. - Effective treatment of diabetes is a challenge of a lifetime, from which we do not have on leave. I know from experience, regularity that it is for people struggling with diabetes biggest challenge. Mobile application My Treatment is a great support for each diabetic. Is an easy to use tool daily struggle to stay healthy - he says.
Positive reactions produce energy for more, because developers My Treatment do not rest on their laurels. Actively encourage more organizations to inform their clients, how to easily take advantage of new technologies as an aid in the treatment of.
We invite you to support My Treatment other Foundations i Patients' associations! According to the studies already 60% Poles appreciate the impact of new technologies on health. Together, let's take care, that these statistics are still rising!
My Treatment is for each of us to support an effective therapy in the responsibilities of everyday life. Let us help such initiatives. Download, commend, us support! The possibility of a free download: www.moje-leczenie.pl
Dear Reader,
since dotrwałeś until, that you are reading these words you kindly inform, www.moje-leczenie.pl that the application is not the work of the agency Grey Tree in which I am the managing. I will say more expensive Reader, This application is not made up by a friend left us Agency. And at the end of a brutal law, www.moje-leczenie.pl the agency has done that is competitive Grey Tree. I wish all the competition.
Thank you for your attention.
Dariusz Goźliński
Comments
Comments