What the marketer is the target group? First of all, it will be a group of people with specific socio-demographic characteristics, which then describes the consumer insight prepared for a particular product campaign. Another way to define the public will indicate their psychographic characteristics in terms of concrete and repetitive behaviors (for example.: slimming, baby care, many hours and tiring work in front of computer vision) or lifestyle (for example.: people who value their own activities and sports).
And where in all this creating an online community for marketers and whether it matters?
First of all, the community is a community of people mentioned earlier, which share a common bond and relationships. Traditionally understood marketing campaigns online and offline based on reaching consumers / patients with persuasive messages do not build these ties. Also the audience reactions to our product, visit the website and even online discussions do not necessarily lead to the creation of such a community sense and interact with the brand. Worth thinking is thus to create a long-term strategy for the involvement of our target group in communication and building positive relationships, which tended to remain long after the information and promotion activities our drug from Rx or OTC category or dietary supplement.
How can we achieve?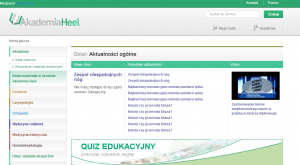 Focusing activity and interest in the tens, then hundreds, and finally, thousands of people in one place. But what connects all these, atomized units? It is a common idea, target or look at the world. At this point, the brand and its agents must answer the question about their own goals, mission and the context of action. Pomińmy jednak standard, What is the care of the health of patients (health is indisputably one of the greatest values) and let us go a step further. Przełóżmy this philosophy to the concrete and Getting involved brand and its audience, eg.: co-creating with the Internet portal dedicated to the theme of health, or leading fanpage on Facebook, who share the same ideas and consumer brands such as.: healthy lifestyle (and it will not be strictly product profile!).
However, this is not the end, because community building requires continuous involvement of the brand, which should inspire and interact with members of the so created, or rather the emerging online communities. This investment in the community and offering value-added (advice, trivia, useful applications etc.) leads not only to identify with the brand, but a further consequence should ask us with a vengeance.
Comments
Comments