Virtually unlimited possibilities of creating an efficient educational and marketing message directed at a very wide or dedicated group of medical practitioners, based on multimedia and modern information science technologies (interactive websites and portable devices, such as iPads or other tablets in the hands of medical representatives).
edetailing.co also means direct interaction between the medical practitioner and the presentation, immediate reporting, flexible adjustment to expectations and demand, as well as detailed statistics concerning the answers of medicine specialists and the activities of representatives.
The above paragraph presents edetailing in the service of pharmacy and medicine in a nutshell. However, this is not the end of the story, for it is the effect that counts in today's world, and it is guaranteed by the very edetailing systems (credible reports and detailed analyses available "off-hand," calculable improvement in marketing operation and sales effect) under constant pressure of competitors. Many persons from the pharmaceutical industry have come across the name, and maybe had an opportunity to handle simple solutions of this type with poor functionality, but, in fact, not everyone knows what stands behind it in its true sense, or the possibilities which this word epitomises, as well as new technologies. If anyone of you has used edetailing before, only NOWyou will be impressed by the evolution that this system and its possibilities have gone through. You will be even more surprised that the version described below, which is about to enter the Polish market – the new edetailing.co system is made available for testing for free.
Synergy of knowledge, experience and possibilities
edetailing.co, that is the solution offered by GreyTree, is a huge step forward within the area of new pharmamarketing, a solution that outstrips the competition. The edetailing system prepared by GreyTree is an advanced project of several teams specialising in different fields of the agency. Owing to the combination of experience that GreyTreehas gained in the areas of persuasive communication, PR, and marketing, as well as the knowledge of pharmaceutical industry, together with specialists for whom multimedia, technical novelties and programming do not have any secrets, we have created a product that offers the service of dynamic and effective sales support onthe level of the latest American solutions –edetailing.co.
About edetailing.co, i.e. where and how
In the case of edetailing, there are two most popular possibilities, based on presentations made in Flash, video, PowerPoint or other technologies. The first of them are advanced yet user-friendly interactive presentations – published and made available online for medical practitioners, includingtheirown website, separate Web project or selectedmedical portals. The second option is pharmaceutical representative, who conducts – during a direct meeting – a multimedia presentation on one of portable and handy devices, such as an iPad (tablet). This is how it looks like in the case of standard edetailing products. By contrast,edetailing.cois something more.
In both cases of edetailing.co solution, we can mention an interaction between a medical practitioner and a pharmaceutical company, for the informative and educational materials being presented can be adjusted to expectations and demand of medicine specialists. Depending on what choices medical practitioners make and what answers they provide during the presentation, the system can individually adjust subsequent messages and pieces of information, so as to maintain high level of the recipient's interest in the content. Simultaneously, in this way a pharmaceutical company, on the basis of reports available on-the-fly, can modify its presentation, so as to increase the effectiveness of conveyed information, time and time again. The whole product is based on an integrated system that combines an interactive website, an online presentation for the medical practitioner and a presentation installed on an iPad (based on the edetailing.coapp, using modern trends, as well as HTML 5 and CSS 3 data description languages) with specially configured servers (eDetailing.co Server) which aggregate data on-the-fly, send messages, maintain communication and synchronisation even with very distant places over the world via the Internet.
Improved efficiency and the expected effect
While involving less resources and time, the presented edetailing.co system generates more reports and information which, in addition, are more detailed. Moreover, presentations made with the use of this solution can be immediately updated, modified and optimised when we find that our multimedia message can be further developed and enriched. Furthermore, referring to the majority of edetailing systems that exist and operate in the market, the system prepared by GreyTree,that isedetailng.co, is also more simple in terms of handling and has many more options available for marketing and sales departments and, at the same time, owing to its simplicity, it is a user-friendly solution which makes the work of a pharmaceutical representative more efficient and easier.
The goal of each business solution is to bring calculable benefits, return on investment, and faster effect at a lower cost – edetailng.co is this very type of solution. Both the task and one of many advantages of this system is the prepared, specific, effective and persuasive message directed at a medical practitioner, enhanced by the information about the drug, research results, and comparative analyses (e.g. the drug produced by a given company vs.other drugs). Medical practitioners who take part in such a presentation do not have to be passive content recipients, for the proposed solution allows us to implement an interactive multimedia part, where the medical practitioner is treated as our partner and together we can co-create the further part of the presentation – thus, the medical practitioner becomes its active participant. Owing to such involvement of the medical practitioners during the presentation, we are not only able to increase their interest, but also to help them memorise the information message, including, e.g. the name of the drug and its advantages. In other words, edetailing solutions of this type constitute a new form of conducting dynamic educational and promotional activity, directed at medicine specialists and our clients – medical partners.
Subsequent advantages, i.e. on-the-fly reports and advanced statistics
A solution that would be advanced in a comparable way to the edetailing.co system is difficult to find in competitive products which have appeared in the market earlier. In comparison withedetailing.co,the majority of other reports have the appearance of uneditable PDF fileswhich, before being sent to the Client, have limited possibilities of configuration and search for correlated variables, that is data on which marketing and sales departments of your company draw upon.
Inedetailing.coit is you, the user –who acts as an administrator and generates reports and selects the data required for operation activities in marketing and sales by means of a simple navigation panel.Reports are also available "off-hand," so you do not have to wait until the project is completed to know its effect. You can monitor and coordinate all marketing and commercial activities on-the-fly,regardless of which part of the world your pharmaceutical representatives are in. All this allows you to make the campaign more efficient and achieve the assumed monthly, quarter and annual goals in a definite manner, for you can implement corrective activities into the actions operated by marketers and representatives at any moment.
Field data or information gained from online presentations available on websites are aggregated on-the-fly and recalculated into reports which you can display at your choice. You can also take advantage of a conventional, tabular form, in which you will receive full information about the presentation displayed to a given medial practitioner, as well as how a given pharmaceutical representative performs in comparison with other representatives (e.g. on the national or city level), i.e. the "Best" and "Last" list. However, it is not the end of the statistics! As part of edetailing.co, you will also obtain data concerning the details of meetings with a particular medical practitioner in a longer term, a monthly and many-months statement of visits paid by the representatives, the lists of displayed presentations, poll results, and the reactions of individual recipients. These are still not all advantages that edetailing.co offers – the system provides you with considerably wider marketing possibilities, additionally presented in a very clear and elegant graphic design. And we have not heard a word that our competitors in Poland should offer any solutions with such a high level of perfection and functionality!
Online communication, updates and news
In addition to an already advanced system of reporting and analysing, as part ofedetailing.cofor iPads,we have introduced a news system for the representatives, which contains both messages from the edetailing.co team and the messages from the administrator of a given pharmaceutical company (e.g. information scientist or marketing specialist). Ultimately, we plan to introduce an upgrade (at present being under intensive testing) of the news system, in order to assign groups of recipients or send information only to a particular person.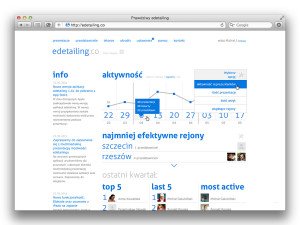 Also in the case of adding subsequent functions to the edetailing app, based on the onlinesoftware installed on a portable tablet, it can be updated virtually seamlessly, owing to persistent connection to the edetailing.co Server. Users will receive information about adding new possibilities to the app that they are using. The same applies to changes which a pharmaceutical company wants to introduce to the presentation and multimedia, and which are used by its representatives.
edetailing.co, that is a step further than yesterday
The future and new, efficient solutions are at hand right now. edetailing.co is not a distant call, it is the present. Advantage is gained by those who aim at using their time and budget efficiently. Therefore, do not wait until all others around you utilise edetailing solutions. Instead, check the new possibilities today. Or, just take advantage of more advanced and functional edetailing systemsthanthe ones currently available. Not only will edetailing.co surprise you with its handling simplicity, but also with the amount of marketing, educational and commercial data, and thus, efficiency at your disposal.
Komentarze
komentarze