So, the next edition of social media activities for the pharmaceutical industry. Some of you familiar with the case study GreyTree "Calm child", in which we find the long-term activities in the area of ​​social media. "Calm child, happy holidays" is another scene of action designed in our agency for your business Very Poland
Gathering information, or your baby on vacation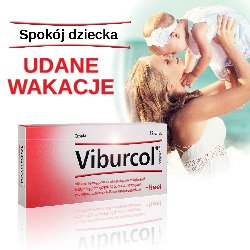 As in previous designs, so this time, focused primarily on "hearing" Vote audience, that is, parents and carers of young infants. The period of analysis of their statements included time last year right after the holidays, when we share information with trips made, trips and adventures, for now. We are mainly interested in the statements related to the product campaign, remedy for teething pain, Baby colic, etc.. Already shown us the first comments, parents are not able to accurately predict when a child gets unrest related conditions such as. with colic and teething, and hence, are not able to adapt exit plans (assuming, that they are not giving up). Among the comments we read, message stuck in the style "I already knew this…". It was a crucial piece of information, which was forged in the core communication: you do not need to know when your baby will be united unrest, having always help him with you Viburcol. Comments and statements from before the year in which the communication was planned in August proved very helpful in the planning of the campaign "Calm child, happy holidays".
"Calm child, happy holidays"
Promotional activities in social media have started a few months before the opening of the holiday period. In contrast to the questions that you first themes forums, blogs, fanpage or parenting services, we focused our attention on dealing with travel sites, trips, vacation without a special focus on children holidays. According to our study, parents often looking for general information about the holiday, in a second step, selecting a tender, check its suitability for little explorers.
And it was a hit. Campaign targeting generally to travel (without focusing on the child), on holiday trips directed to a dedicated page Spokodziecka almost 10 000 people at 17000 sessions (data by Google Analitycs District 1 April to 30 September 2014 r.). The result obtained is the more satisfactory, that has been achieved as a result of activities in social media (for example,. by activating users fanpage, and cooperation with the blogosphere, without the costly display advertising portals.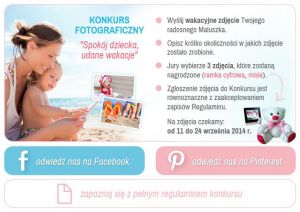 In addition to the abovementioned actions, great importance was the use of multiple channels of communication with parents. Among them we can mention the advertising campaigns Google AdWords, support from the blogosphere, animation on the forums or standard action already Facebook.com - Activation of users, promotion posts. New action in the portfolio of social media for Heel Poland was the use of tables for Pinterest.com.
In the course of its activities are carried out actions involving parents to interact with the brand Viburcol. In our opinion, this has been the 100%. Parents publish photos in social media where the hero was smiling baby on vacation "with the brand in the background". Baby smiling, quiet because? There could be a combination of one, because the parent was prepared for possible unrest baby. Awards in the course of action that parents can also win were associated with ... "calm child".
Began to fall, kind of vacation is over, but activities will still only have the new slogan and new activities. But I will write about another time, for now I leave you with a password, social media that the length of the action really does matter.
Comments
Comments